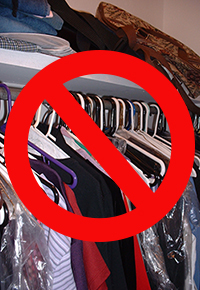 The plastic bag your cleaner uses to protect your garments in transit between his store and your house, should be removed as soon as you get your clothes safely home.
This plastic covering has not been designed for long-term storage. It will not allow air to reach the fibers and it prevents the fabric from 'breathing.' If left on for prolonged periods of time this plastic can deteriorate and cause oxidation (yellowing), fume fading and mildew to occur.
If you want to protect your garments from dust and airborne mites, use a cotton sheet or a ventilated garment bag.
And remember to keep the plastic wrap out of the hands of children.  Put them in your recycling bin or bring them back to Oak Forest; we will recycle them for you.